It is finally finished!!
My complete 4/5 Unit is finished and ready to be downloaded on my TPT store.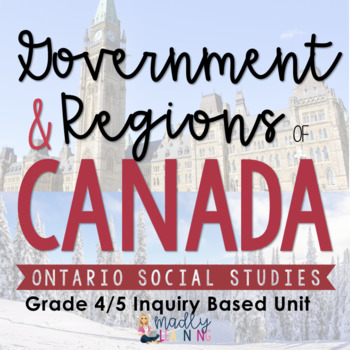 The Canadian Physical Regions and Government Unit
To celebrate the completion of my Canadian Physical Regions and Government unit I am giving away a copy of it to one lucky winner.  Enter below to get if for free!! Contest is on for this weekend only!!
a Rafflecopter giveaway
his is a unit that is designed for a split grade classroom for Grade 4 and 5 students. 

These activities align with the new revised curriculum. Much of the focus in the new curriculum is inquiry based teaching and learning. This unit will give students both the basic understanding and background needed for further inquiry as well as scaffolded inquiry activites. 

There are two components
Teacher Directed Lessons
Although the focus in the new curriculum is on inquiry there is still a place for direct instruction. This unit is balanced between direct instruction and inquiry learning. Using a variety of lesson formats, teaching styles, and student activities the direct instruction component of this unit will help to give students the basis for understanding the complexities of their inquiry project. Lessons include shared/independent reading, student case study, discussions, task cards, game boards, video links, online links for flipped classrooms, and student reflections.
Inquiry Project
Students are more engaged in learning if they buy into what they are learning about. Through an inquiry booklet that has components geared specifically for this unit but can also be used for other inquiry studies. Students begin to explore environmental issues in Canada. Students are guided to discover a topic of interest through an interest inventory. Then are given some suggestions that relate to their various interests. With the other corresponding pages the inquiry process is scaffolded to help you guide students through their inquiry. 


This unit also works well with these resources in my TPT store. 

Use the vocabulary from this unit with my Character Traits Literacy Series of Lessons. Or with my upcoming Character Traits Unit: Respect. 

Check out how to piece all components together on my Long Range plans 

All of this and more can be found on my TPT store.